Say Hello To The Meadowbrook Animal Hospital Team
From setting your appointment to picking up prescriptions for your pet, every experience you have at our pet hospital is one that stands apart. That's because our team goes out of their way to ensure you and your pet are properly cared for. We want to be the team that you not only trust, but enjoy seeing every time you walk in the door. Our friendly staff genuinely cares for each and every pet that visits our office. And animals' requests for belly rubs or a good scratch behind the ears are always granted with a smile.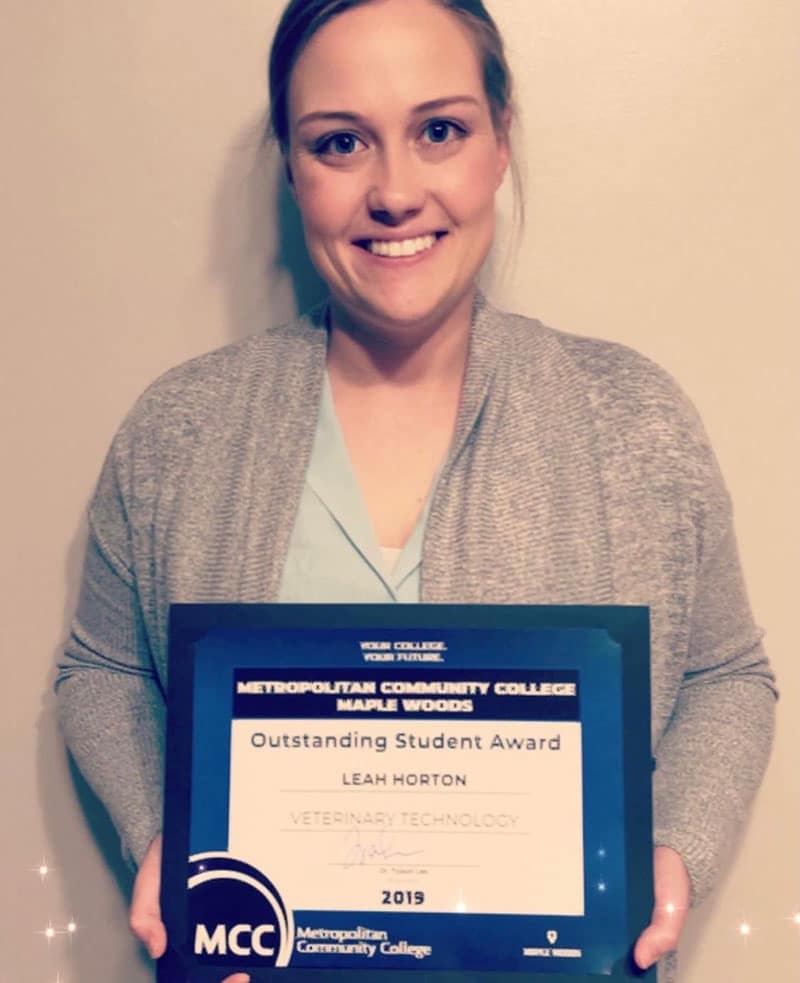 Leah Horton
Office Manager/Registered Veterinary Technician
Leah Horton is a Registered Veterinary Technician and a valued member of the Meadowbrook Animal Hospital team. She proudly followed in her mother's footsteps and has dedicated her professional career to veterinary medicine. Leah has had experience working in animal hospitals for over 10 years, and in 2019, she graduated as the class president from the Maple Woods Veterinary Technology Program. Leah has a special interest in anesthesia, dentistry, and diagnostic imaging. Leah is also passionate about ensuring proper nutrition for animals and has completed advanced nutritional training with the Hill's Nutrition Academy.
Leah brings her expertise to Meadowbrook Animal Hospital in providing quality veterinary medicine to the community, with top-notch patient care in mind. When Leah isn't at work, she enjoys playing fetch with her cat Carrot, spending time with her family and friends, reading, playing sudoku, and playing or watching sports.
Affiliations
Kansas City Registered Veterinary Technician Association
Missouri Veterinary Technician Association
National Association of Veterinary Technicians in America
Veterinary Care Elite Program
International Academy of Pain Management
Academy of Veterinary Technicians in Anesthesia and Analgesia
Veterinary and Hospital Assistants
Rhylie
Rhylie is a Veterinary Technician Student enrolled in the Maple Woods Veterinary Technician Program.  She is also one of the class officers in the program.  Rhylie is set to graduate in May 2023 and will become a full-time Veterinary Technician.  Rhylie has been in the veterinary field for the last 7-8 years.  Rhylie is super excited to be working at Meadowbrook Animal Hospital and you will see her constantly moving about the hospital, getting excited about complex medical cases.  She currently owns a 3-year-old Beagle named Moby but also would love to own a goat one day.  
Outside of work, Rhylie loves going to concerts and listening to live music including classic rock, funk, and soul music.  
Hayley
Hayley, Veterinary Assistant, is currently a full time student at Northwest Missouri State University. She is currently majoring in Biomedical Science, Pre-Vet in hopes of pursuing a future career as a Veterinarian!
She has wanted to be a veterinarian her whole life and working at Meadowbrook has allowed her to be 100% sure that's what she wants to do. Working there has made her even more excited for her future. She absolutely loves working there!! Every day she learns something new!!
Hayley has two dogs named Bella and Baxter and they are her entire world!! She loves playing fetch and throwing the frisbee for them outside. It's their favorite thing!
She loves to go on new adventures with her family and loves anything outdoors!!
Cierra
Cierra, our Receptionist/Customer Service Representative, received her general education at Johnson County Community College and then went on to Park University where she is now a senior getting her bachelors in psychology.
While going to school, she played college soccer for 4 years. Her goal is to become a veterinary technician and pursue her love for animals. 
One of her favorite things to do is travel and her dream is to go to Italy one day. In her free time, she likes to spend quality time with her friends and family.
Your Pet Is In Capable, Caring Hands
Comprehensive veterinary care for your beloved family member.